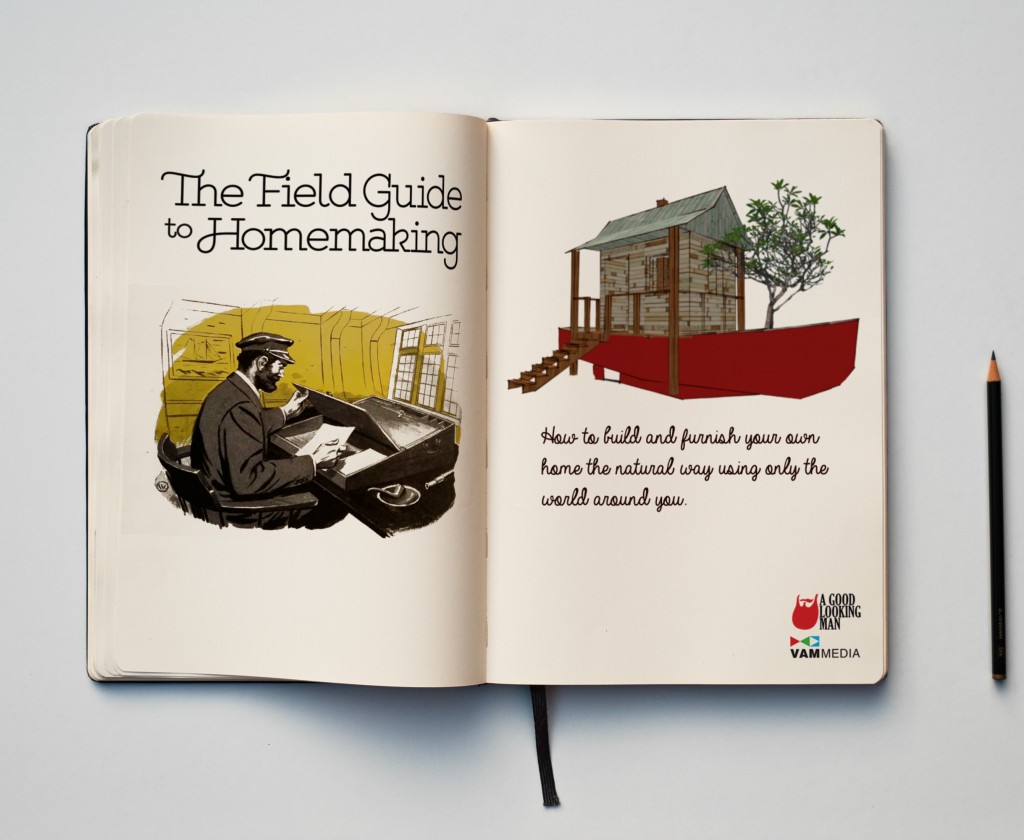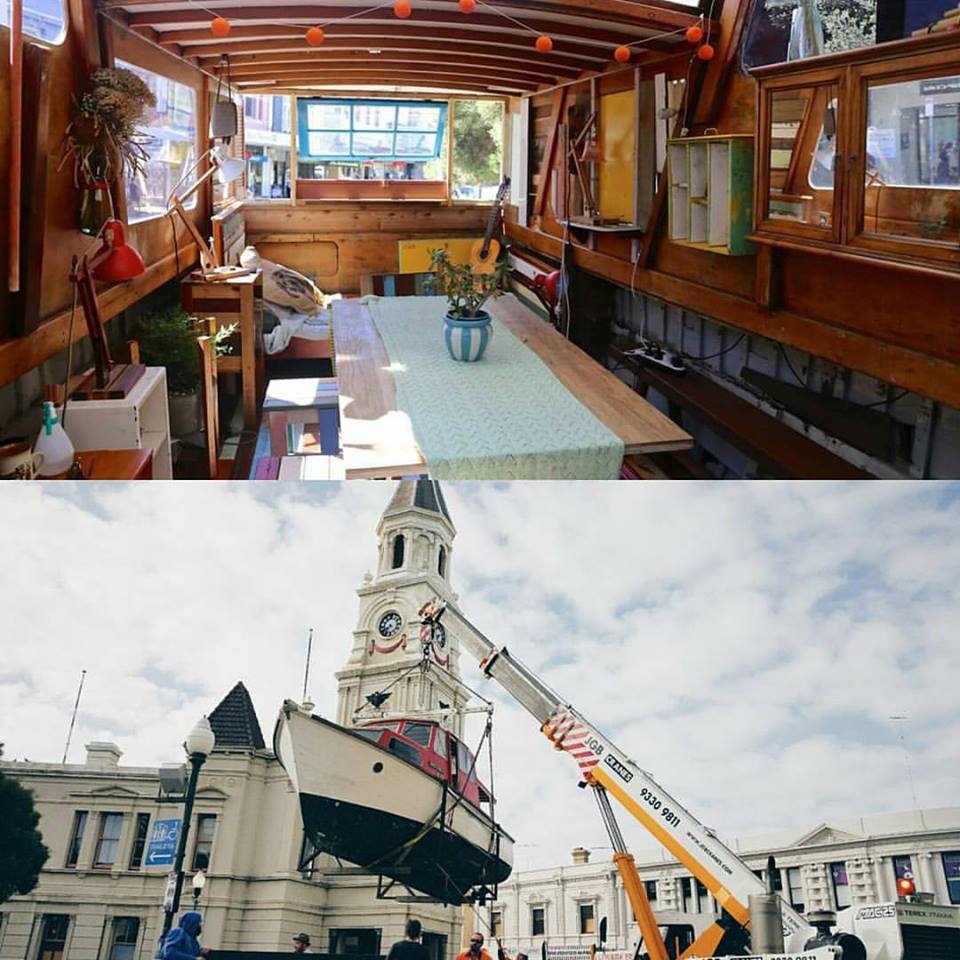 Home is a place. Home is a physical construct. Home is things I've collected.
Working with Brendan Hutchens (Vam Media) in the role of Producer I created a large scale sculptural work out the front of the Town Hall in Fremantle during October/November for the Fremantle Festival.
As the piece developed there were several streams of interest and exploration which unfolded. The boat itself, the people who engaged in the work on the project, the interaction with the public and the personal reasoning around my motivations.
The piece is a home built atop a 30 foot wooden boat which had been sunk in the Swan River (four times as it turns out after various people appeared during the stay and informed me of the Cooinda's history). The Cooinda is 54 years old and has seen several owners and lifestyles through her time. From being a princess of the river for the Knight family: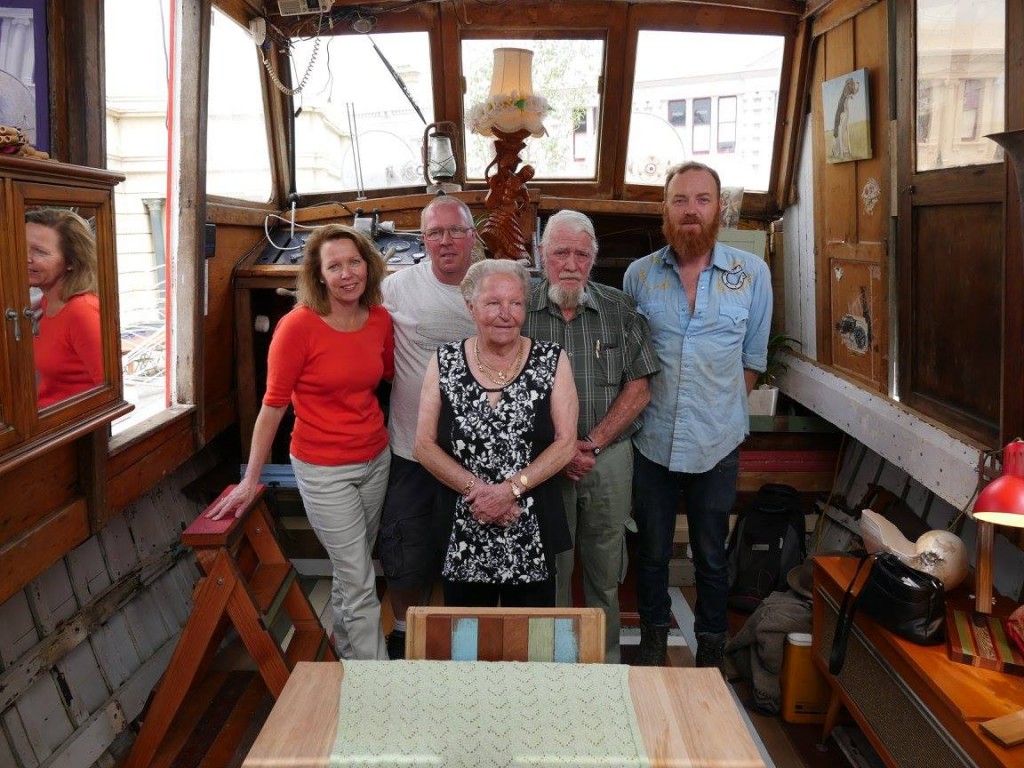 To a party boat rife with sex and drugs in the 90's. She once gleamed and was the pride and joy of a family and she was also allegedly sunk on purpose for an insurance payout. She has been through a lot. Working in a public space without signage attracted a lot of people to come and speak with me about what it was I was doing, why I was doing it and what I was learning.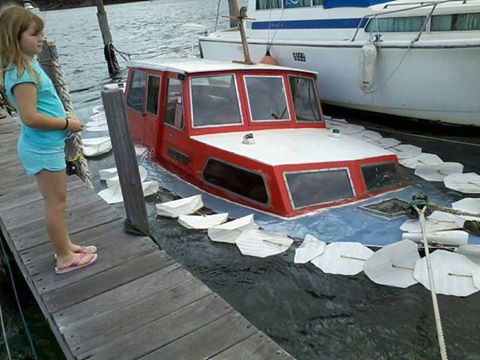 The first instinct I have is to build. To make everything within my world. Ever since I was a kid I built cubbies and it's a base urge within me to make shelter that has always existed. To make home. I turned the boat into a home using both qualified and unqualified members of the community as my workforce, teachers and participants as a mechanism to address the cultural behaviours in a public space. King's Square in Fremantle is right out the front of my studio and it can be a fairly sinister space. Poor lighting, boozing, aggressive, nasty. Placing a typically masculine object out of it's natural environment triggered many conversations where I could talk to anyone about internal and external spaces. What makes a home, what makes a public space feel homelier. I didn't realise how few men aged 40 plus I actually talk to. My Dad, my New Dad. That's kind of about it. That was one of the more interesting revelations for me and it lead to a lot of interesting conversations and developments.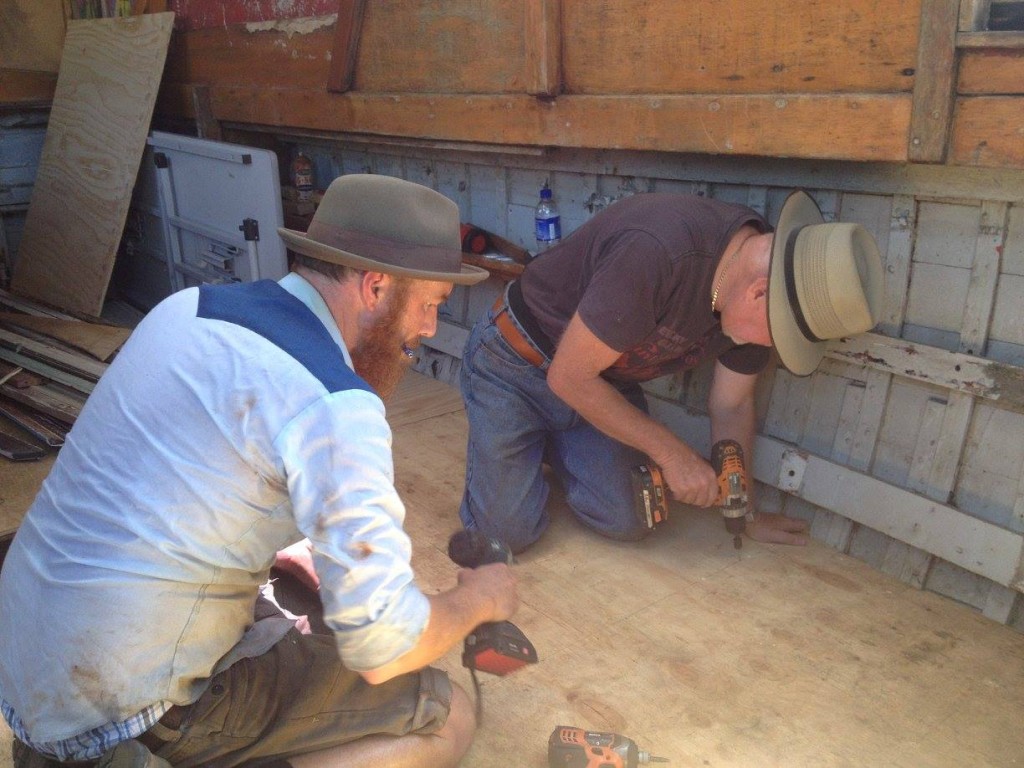 The workforce that gathered around me was predominantly male. It wasn't that I set out for an exclusively masculine workforce but the type of work and the backbone of the concept seemed to attract men and open a dialogue that comes from working shoulder to shoulder with someone.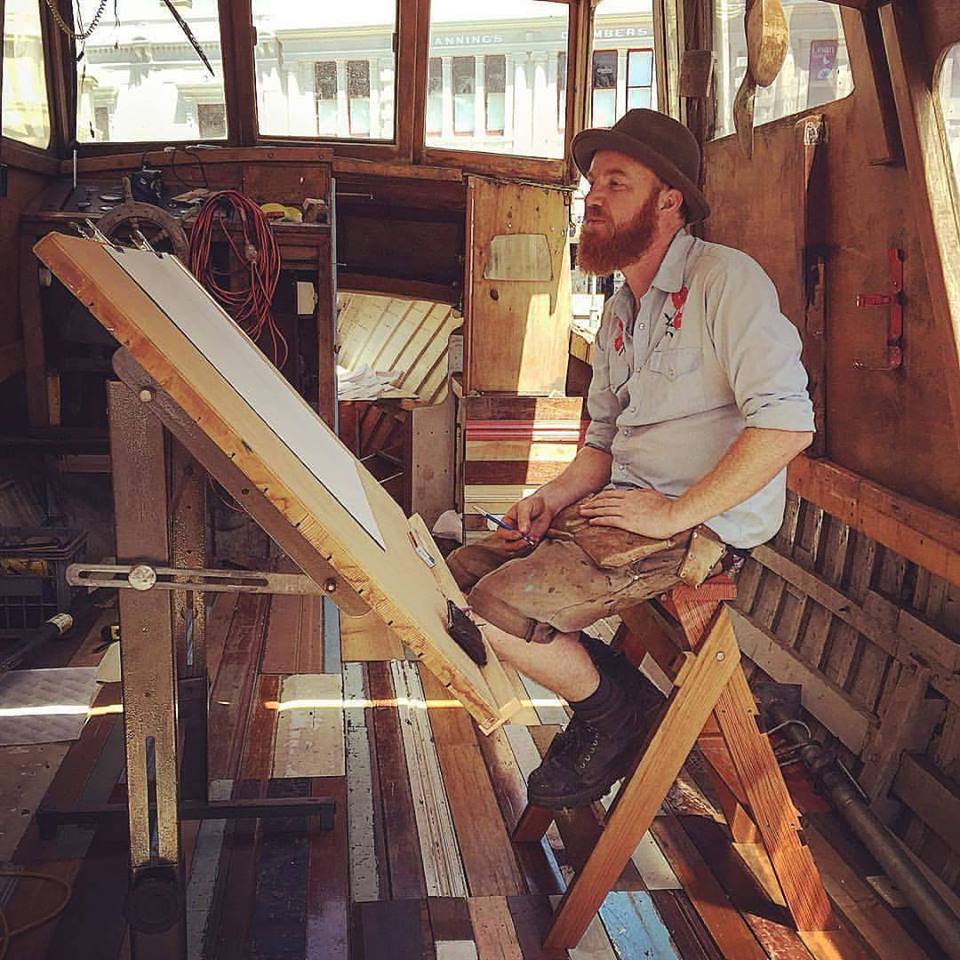 The Field Guide to Homemaking will be developed over the coming months and will illustrate how I pulled together a workforce and made a home in public space. The piece itself goes on from here. I am hoping to get down to the Donnelly River Village where it will serve as a holiday house with a goodhearted touch where single parents can get a free weekend away with their kids. In a cabin. On a boat.
As a people I think that we are losing our ability to make things.
Skills our mothers and fathers and grandparents possess haven't been passed on in the same way they were for generations before.
We don't grow our own food, knit our own socks, help the neighbours build a pergola – general day to day things that not only produce an outcome of something we need or want but serves to bring us closer to one another. There is a great pleasure in accomplishment. Industry in this country is a struggle and those who do make their own products are in competition with sea containers. That's just capitalism – it's not a bad thing. It's just the lucky playground we are in. It isn't going to stop me from making things, it's not even going to cause me to pause. Like Henry Ford I will go on. I've just got to come up with ways to make it work and that is fun.
There are three aspects to what I do. The first is my own work. I am a tenant of the Production Floor of the MANY 6160 Building (located in an abandoned Myer's building in Fremantle, Western Australia) which is ridiculous. We have a 3600m2 workshop on the first floor of a department store. It houses a selection of practitioners from wood workers and product designers through to seamstresses and silk screeners. Think of it like Dreamworld on the Gold Coast but with no crowds, attractions or sunshine. Just noise, saw dust and people going about their business. The Billy Joel is often on high rotation and the coffee is the second cheapest. Most of what I make is out of recycled wood which I collect from the verges of Perth. I studied painting at University and I just love colour.  I spend most of my time just getting strips of coloured wood to touch each other just so until I am happy. It really is my job.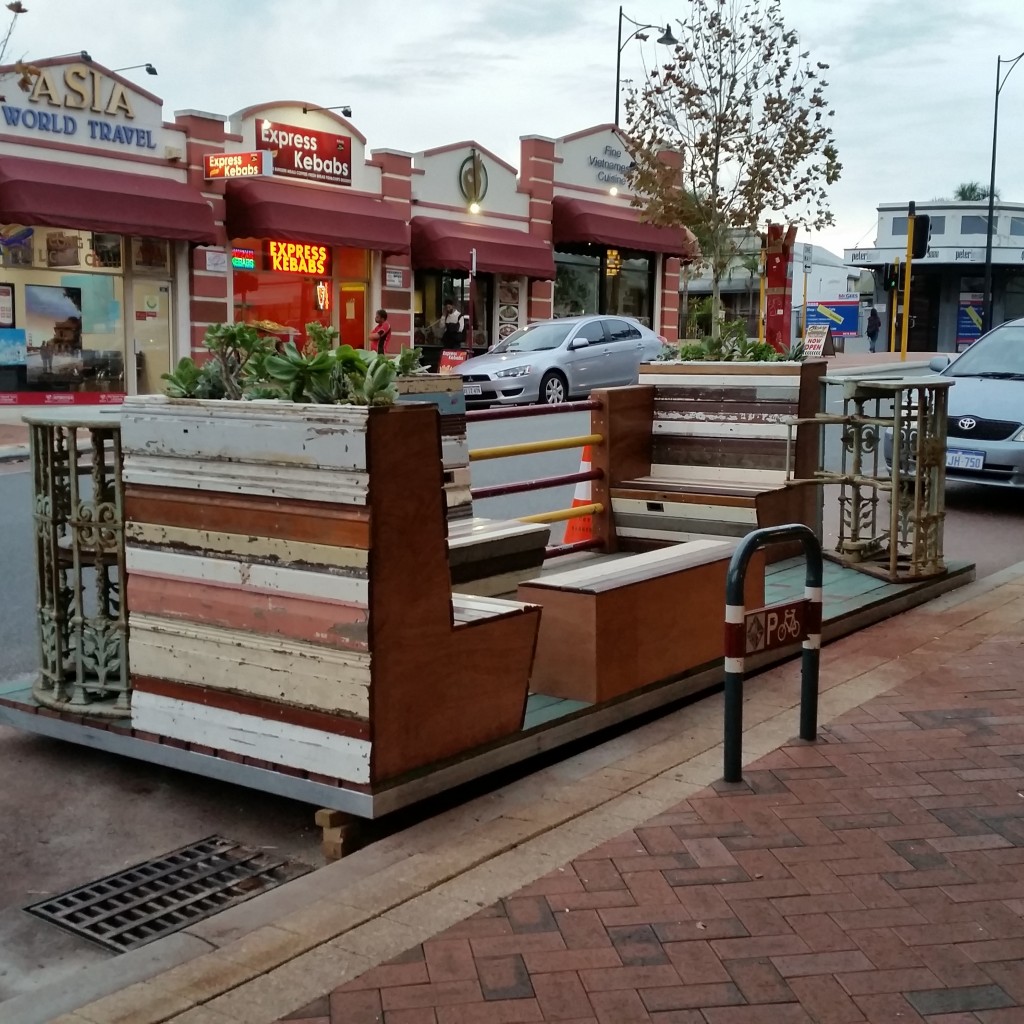 The second aspect is Pop up Workshops. This is where I teach people how to make things. I've done these in a few different spaces but I really enjoy doing them in an environment that people wouldn't normally associate with woodwork. They're really rewarding and it creates a vibrance within a space and community. Australia is evolving and the economic bottom lines often wins. As a society we are making less of the things we need and use and importing in bulk. Skills we've carried for generations are disappearing. We just don't make things anymore and people really want to is what I've discovered. There are few things sweeter that the feeling of making something out of nothing.  I've run the workshop's for first time wood workers, at risk members of society and as a way to address how manufacturing can be approached in Australia. The next body of work shops have grown from the trials and learnings of the past couple of years to be fairly ambitious. Creating venues and events with as many hands as possible in as short a period of time as possible whilst high lighting other people's businesses. I've found if you can give someone a few bucks, a sausage, a beer and other people to talk to then great things can be achieved.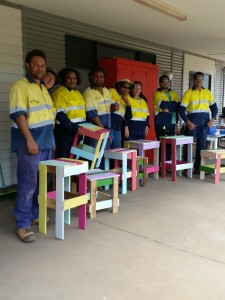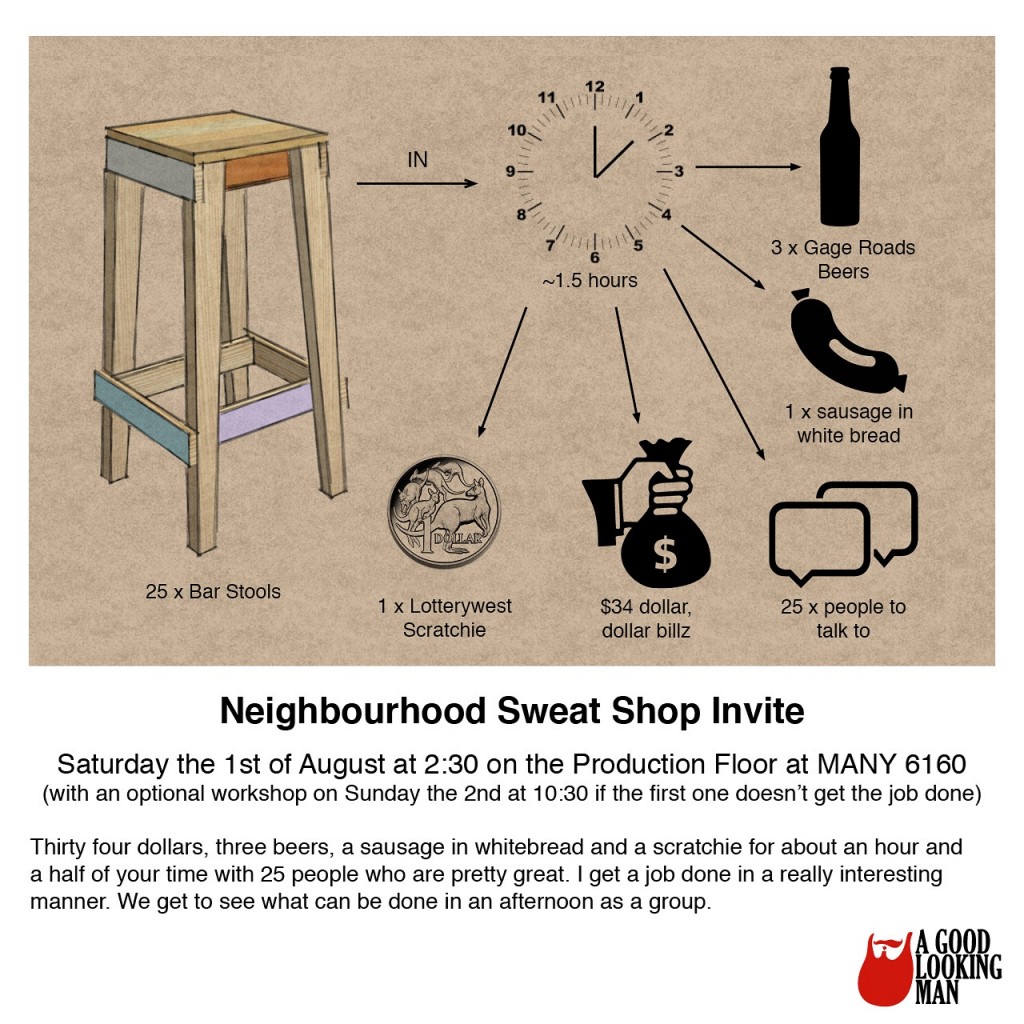 Numero three is Pop Up shops. This is where I can empty out my workshop and show what I've been up to. I run free demonstrations and boy do I love to give out advice. If you've got something you want to make come and have a chat. The easiest way to know where and what I am up to is to follow me on social media. Facebook here and Instagram is here and the future is now (cue art noise).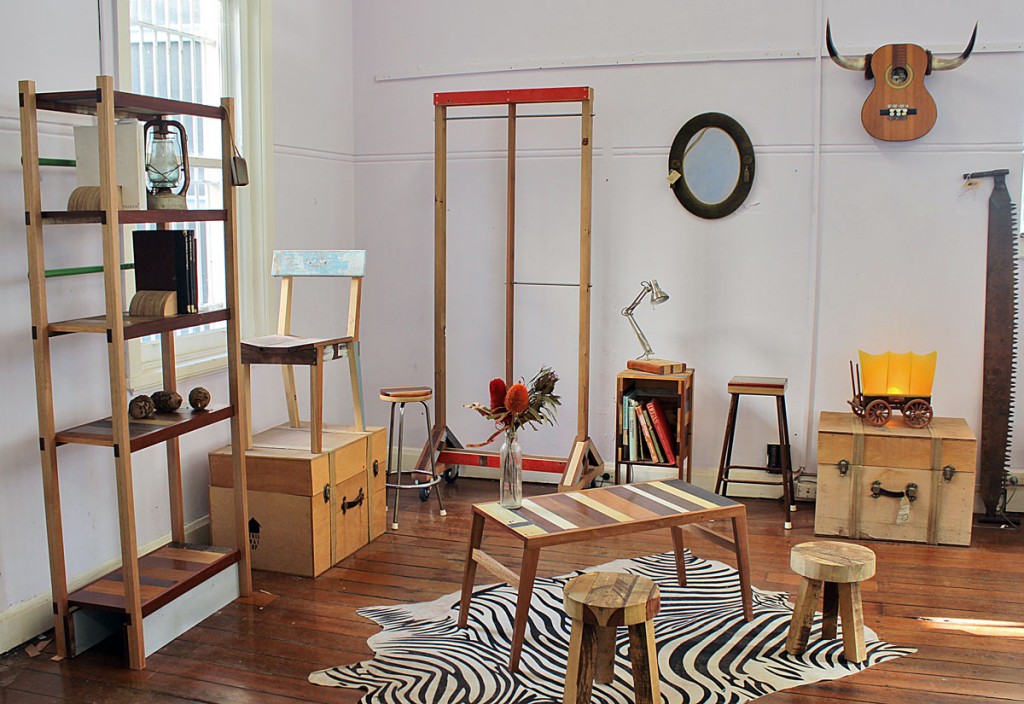 NEWS:
So much news has been happening. Quickest way to keep up is to follow me on Facebook here: A Good Looking Man and on Instagram here: A Good Looking Man because wood worker not web developer.